What are SIPs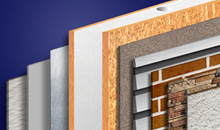 Structural Insulated Panels (SIPs) are high performance building panels made of expanded polystyrene sandwiched between oriented strand board (OSB) for use in walls, floors, and roofs that make buildings stronger, more durable and more energy efficient than conventional.
SIP Panel Videos
View a short video from SIPA describing how SIPs are traditionally used in home building:
Structural insulated panels are a time-saving option for framing homes. Here is an overview produced by Homes and Gardens Television.