Nailbase Retrofit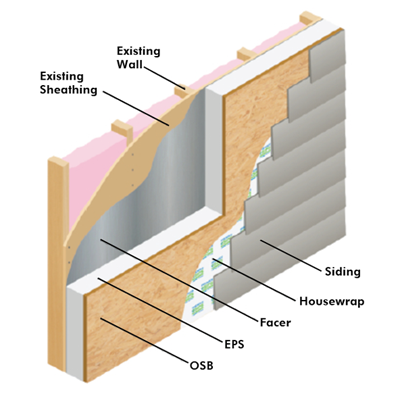 Nailbase is a cost-effictive solution for remodeling or rennovating an existing home or building when speed, budget and dramatically increasing energy efficiency are the goals. A retrofit from the outside in, nailbase creates an airtight envelope that will last a lifetime.
Features & Benefits:
Nailbase adds insulation
Three standard thicknesses:

7/8" foam + 7/16" OSB = R-3.5+

–1 5/8" foam +  7/16" OSB = R-6+

–3 5/8" foam + 7/16" OSB = R-12.5+

•.75 lb psf density foam laminated to OSB in 4' x 8' sheets edge-to-edge.

Fastens to existing surfaces such as wall studs or roof trusses/decking.

Sealing creates a complete air barrier.
Increases Envelope Performance
Airtight envelope.
4×8 panels with expanding foam or SIP tape.
Before and after blower door test for HERS score
Combine with whole-house energy upgrade package such as windows, doors, HVAC.
Minimal Disruption
Outside in energy retrofit.
Minimal waste.
Quick door and window replacement.
Easy and quick re-roof.
Less time on job site.
No crew required inside of home or building.
Reduces Energy Costs
Added insulation to walls and/or roof.
Controls air infiltration/exfiltration.
HVAC ducting inside of conditioned space.
Reduced sizing of HVAC.
HERS Score lowered.
Time and Labor Savings
Delivered as complete package.
Standard tooling such as nail guns and screwdrivers.
4' x 8' sheets go up fast and easy.
Spray foam canisters and SIP tape provide quick sealing.
No special training/licensing required.